2014 News Archive
Leomister RNs' Community Forum a Resounding Success!
10.31.2014
It was a packed hall as the communities of the Twin Cities turned out to for a forum on dangerous staffing cuts and unsafe patient assignments for nurses at UMass owned Leominster Hospital, as these courageous nurses and their community join together to fight for safe patient care! Check out the amazing story on the event.
http://www.sentinelandenterprise.com/News/ci_26836166/Alarm-raised-on-hospital-staff-cuts
Alarm raised on hospital staff cuts
Nurses at Leominster forum warn of impact
By Cliff Clark, cclark@sentinelandenterprise.com
Updated: 10/31/2014 06:51:30 AM EDT# Comments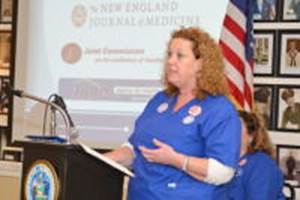 LEOMINSTER -- Providing patient care at HealthAlliance Leominster Hospital should never be compromised by greed. That was the message made clear by nurses, one patient's mother and emergency-services representatives who spoke at a forum Thursday night.
"We are here tonight because these outsiders who call themselves our management team have come into our house, which is your hospital, and are trying to dictate to us what safe nursing practice is," said Natalie Pereira, a nurse at the hospital and chairwoman of the Massachusetts Nurses Association bargaining unit, who moderated the forum held at the Leominster Veterans Center.
The forum was held so residents of the Twin Cities could hear from those on the front lines on how patient care will be negatively affected by the staffing cuts.
The staff cuts were announced in June after an outside consulting firm determined the hospital was overstaffed.
For full story, visit:
http://www.sentinelandenterprise.com/News/ci_26836166/Alarm-raised-on-hospital-staff-cuts