MNA CE Online
Free online courses!!
Log in to MNA CE Online to access any of the courses described below offered by the Massachusetts Nurses Association online.

Not yet registered?
MNA Members click here | Nurses, Non-Members click here | All others click here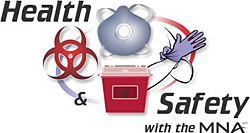 Current program topics include:
Preventing Workplace Violence in Healthcare Settings
The purpose of this program is to provide information and resources for nurses and other healthcare workers to recognize and address workplace violence that affects nurse's health and safety and the well being of their patients. Continuing Nursing Education Contact Hours for this activity, Preventing Workplace in Healthcare Settings, will be awarded until February 17, 2014.
Hazardous Drugs
The goal of this program is to ensure that nurses and others recognize classifications of hazardous drugs, identify adverse health effects from exposures to these drugs and utilize programs associated with exposure prevention that protects the health of nurses and their coworkers. Contact hours will be awarded for this program until September 1, 2015.
Linking Nurses Safety to Patient Safety
The purpose of this program is to provide information on issues of workplace health and safety that affect nurses and other healthcare workers and also affect patient safety and to provide information on resources to improve safety and reduce injuries to both nurses and their patients. Contact hours for this activity will be awarded until July 1, 2015.
Program Requirements
To successfully complete a program and receive contact hours, you must read the entire program, take and pass the Post-Test and complete the Program Evaluation. To pass the Post-Test, you must achieve a score of 80% or above. Your certificate of completion will be available immediately, from the "My Account Page", upon successful completion of the program.

Accreditation
The Massachusetts Nurses Association is accredited as a provider of continuing nursing education by the American Nurses Credentialing Center's Commission on Accreditation.
All programs are free of charge to MNA members and others.