MNA CE Online
Free online courses!!
Log in to MNA CE Online to access any of the courses described below offered by the Massachusetts Nurses Association online.

Not yet registered?
MNA Members click here | Nurses, Non-Members click here | All others click here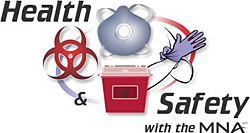 Current program topics include:
Linking Nurses Safety to Patient Safety
The purpose of this program is to provide information on issues of workplace health and safety that affect nurses and other healthcare workers and also affect patient safety and to provide information on resources to improve safety and reduce injuries to both nurses and their patients. Contact hours for this activity will be awarded until July 1, 2015. Register below.
Hazardous Drugs
The goal of this program is to ensure that nurses and others recognize classifications of hazardous drugs, identify adverse health effects from exposures to these drugs and utilize programs associated with exposure prevention that protects the health of nurses and their coworkers. Contact hours will be awarded for this program until September 1, 2015. Register below.
Accepting, Rejecting and Delegating a Work Assignment
The purpose of this activity is to provide a framework for decision making based on the Massachusetts Nurse Proactice Act and other regulatory agencies to safeguard patient care. Contact hours will be awarded until March 31, 2016. Register below.
Safe Patient Handling
The goal of this program is to provide nurses and others with knowledge and skills to address many of the issues and concenrs, as well as the current solutions related to the ongoing problem of safe patient handling in the field of nursing. Contact hours will be awards for this program until May 18, 2016. Register below.
Job Stress: An Online Continuing Education Program for Today's Nurse
This online education program was developed by faculty at the University of Massachusetts Lowell Departments of Work Environment, Nursing, and Community Health and Sustainability. The program consists of four learning modules, each 15-30 minutes in length, plus case studies and reference material. Visit here for additional information and registration for this course.
Program Requirements
To successfully complete a program and receive contact hours, you must read the entire program, take and pass the Post-Test and complete the Program Evaluation. To pass the Post-Test, you must achieve a score of 80% or above. Your certificate of completion will be available immediately, from the "My Account Page", upon successful completion of the program.

Accreditation
The Massachusetts Nurses Association is accredited as a provider of continuing nursing education by the American Nurses Credentialing Center's Commission on Accreditation.
All programs are free of charge to MNA members and others.
TO REGISTER go to one of the following links:
Members: click here

Nurses, Non-Members: click here
Others: click here
There, you will find a form with the first field already filled out with your subscription code. (This is the code that denotes whether you are a member, or a nurse non-member or neither.)
Fill out all of the other fields in the form and press submit.
---
IF YOU ARE ALREADY REGISTERED FOR MNA CE ONLINE, log in with your e-mail address and password at: https://ce.massnurses.org/login/
---
For technical assistance, please send a support inquiry at https://ce.massnurses.org/contact
For more information or questions, contact the Division of Health and Safety at 781.830.5776 or 781.830.5754 or e-mail onlineCE@mnarn.org. You can ask questions any time, but please note that our office hours are Monday through Friday 8:30 am - 4:30 pm, and questions can only be answered during office hours.